You are here
Careers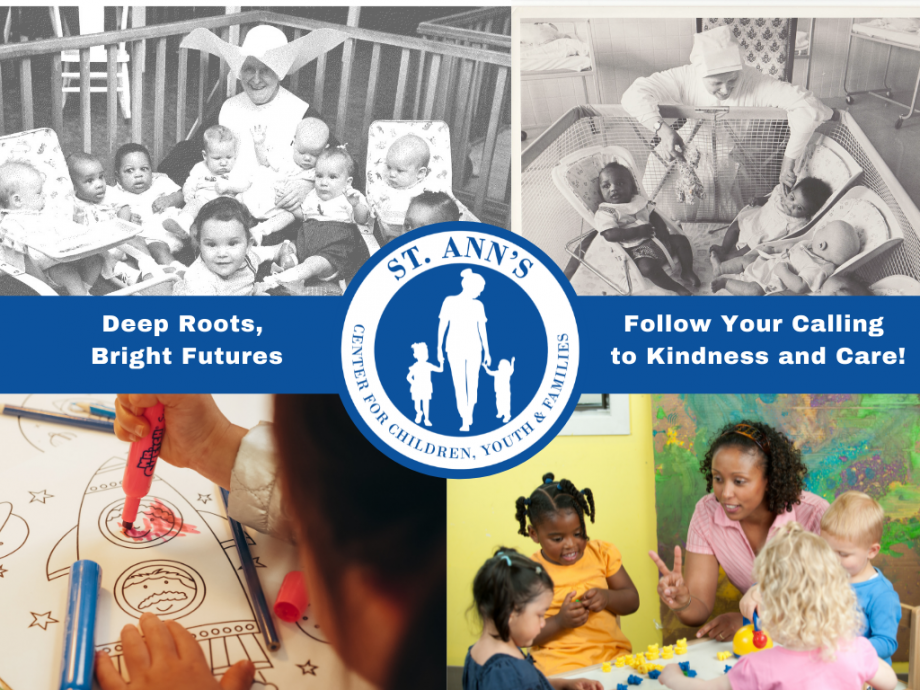 How to Join our Circle of Caring
Take a look below to see what you can do to help us care (see below).

Please complete our Employment Application and email it or just email your resume with a cover letter indicating the position of interest to [email protected].
We'd like to know you if you do want to join us, so please use "Resume Attached" in the subject line of your email.
No telephone calls please as you will be contacted if considered for an interview.
Applications and resumes may also be mailed to:
Human Resources Department
St. Ann's Center for Children, Youth and Families
4901 Eastern Avenue
Hyattsville, MD 20782

Benefits
St. Ann's offers the following benefits to our benefit eligible employees: Group Health Plan, Group Life Insurance, Group Long-Term and Short-Term Disability, Voluntary Dental Plan, Supplemental Life Insurance, Paid Holidays, Paid Sick Leave, Paid Annual Leave, Personal Day(s), Birthday Leave; Tuition Reimbursement, Free Parking.
New employees will be required to present a COVID-19 vaccination card or have an exemption approved by Human Resources before starting employment.
Current Caring Opportunities MARCH 2023
Social Worker – Clinical Social Work Services Department (Full-Time)
Do you have a passion for working with vulnerable populations? Put that passion to work in our residential program for pregnant and parenting teenage girls and single mothers at St. Ann's where we provide trauma-informed services that are strengths-based, developmental and reflective. Incumbent must have clinical skills, including that of assessment, interviewing and intervention. Also serves as an advocate for clients & acts as a liaison with family members and referring agencies. Must be able to handle and keep pace with the demands of clients with trauma histories. Some evening work will be required at least once a week. NO weekend or on-call work responsibilities.
Requirements: Masters in Social Work and licensed or license eligible in MD (LGSW, LCSW) with at least two (2) years of experience (this includes internships) working with adult women, young children, adolescents and pregnant/parenting teenage girls.
Assistant Child Care Center Director - Child Care Center (Full-time)
Assist in supervising the daily operation of the Infant/Toddler and Preschool Child Care Center programs under the guidance of the Child Care Center Director. In the absence of the Child Care Center Director will assume the necessary authority of and responsibility for the daily operation of the Child Care Center.
Requirements: Bachelor's Degree in Education, Early Childhood or in a related field. Working experience of three (3) to five (5) years in education or early childhood development, inclusive of three years in a supervisory position.
Child Care Teachers - Child Care Center (Full-time)
Experience the smiles and squeals of excitement from children as they make new friends, play with their favorite toys, or read their favorite book. You will have the opportunity to inspire and foster early childhood development ensuring that each child is reaching their milestones. You will experience engaging collaborations with co-workers to provide safety, development, nutrition, hygiene, socialization, and emotional well-being of each child.
Requirements for Teachers: High School Diploma or equivalent. Child Development Associate certification in Infants/Toddlers or 90 hours plus 45 hours, training in ADA, Breastfeeding and 9 hours communication, plus one year of experience in a licensed child care facility.
Resident Life Coaches – Residential Services (Full-time/On-call)
St. Ann's seeks caring individuals to support the educational and treatment related initiatives of our female residents through interventions in the areas of daily living skills, parenting, self-sufficiency, behavioral/mental health and relationships. Primarily serves as a teacher, coach, mentor and role model for the residents and their children. Also, provides behavioral health intervention services to all residents; documents all treatment services in a timely and qualitative manner.
Requirements: High school diploma or equivalent. College course work is highly desirable with at least two years of experience working with individuals in a residential setting. Mandated to become certified as a Residential Child & Youth Care Practitioner (RCYCP) within the state of Maryland.
UNPAID INTERNSHIP - CLINICAL AND SOCIAL WORK SERVICES
See link below for internship application instructions.
https://www.stanns.org/node/209
St. Ann's is an Equal Opportunity Employer.
Thank you for your interest.