You are here
Hope Blossoms 2021 Virtual Gala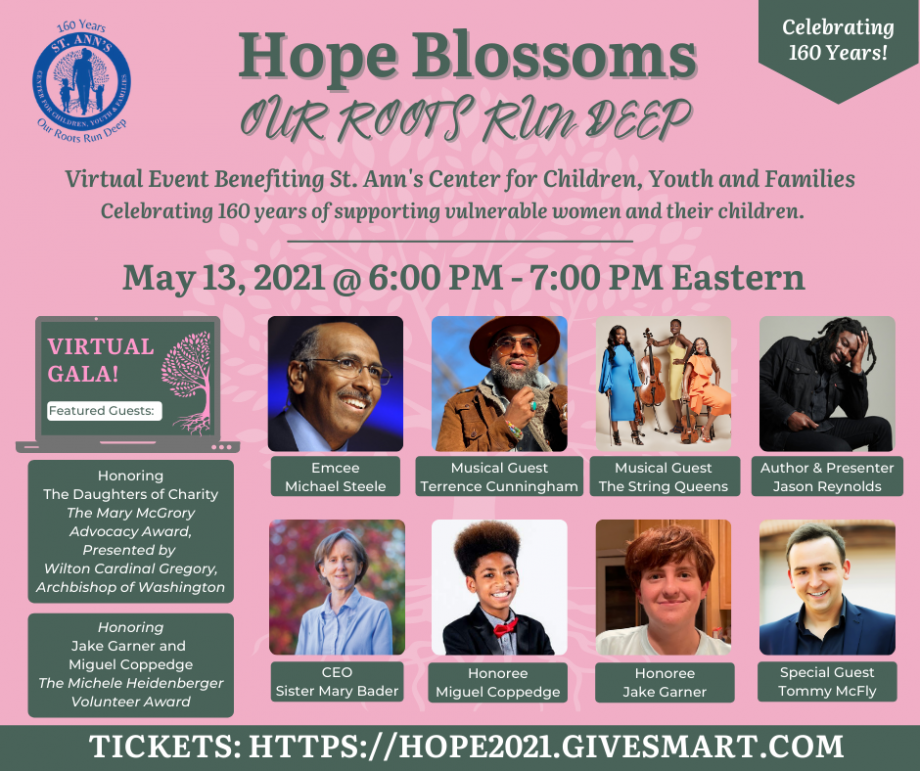 ---
Event Information
Date: May 13, 2021
Time: 6:00 PM Eastern to 7:00 PM Eastern
Location: Virtual
Event Website: https://hope2021.givesmart.com/
---
Our Awardees
The Daughters of Charity
The Mary McGrory Advocacy Award
Miguel Coppedge and Jake Garner
The Michele Heidenberger Volunteer Award
Our Master of Ceremonies
The Honorable Michael S. Steele
---
Thank you to our sponsors for supporting Hope Blossoms!
Benefactor
Kathleen and Edward Quinn
Judy and John Ritz
Advocate
Andreas Foundation
Anonymous
Archdiocese of Washington
Kammie and Scott Bell
Magnolia Family Foundation
Seton Guild
Guardian
Anonymous
Colleen Mahoney
Kelly And Ed McCarty
Genevieve Murphy
Mary Noel and Bill Page
Mr. and Mrs. John Theis
John and Colleen Williams
Partner
Mary Ann and Richard Austing
Honorable James A. Belson
Church of the Little Flower
Elite Personnel
Heritage Investors Management
Mary and Matt McCormick
Nageotte / Garner Family
Jerry Scanlan
Friend
Anonymous
Lynda and Chick Anderson
Chuck and Alta Asmar
Ave Maria Sodality
Alicia Brown
Mary Dee Clancy
Ellen and Stephen Conley
Ellen and Bryan Cullen
Don Bosco Cristo Rey H.S.
In Memory of Christine Durbin
Joanne and Tom Flanagan
Ann Heidenberger
I.B.E.W. Local #26
Insurance Associates
The Honorable Jolene Ivey
Robert H. Lacey, III
Jules and Kerry LeBoyer
Lockheed Martin
Mr. and Mrs. Michael T. Madden
Mary Beth and Doug McDaniel
Courtney and Scott Pastrick
Sue and Vernon Pizzi
Providence Health Foundation
Signs by Tomorrow, Rockville, MD
Nino R. Vaghi Foundation
---
Our Theme
Our theme for Hope Blossoms 2021 is "Our Roots Run Deep" - representing our 160-year history of supporting vulnerable mothers and their children in the Washington D.C. region. Throughout our sixteen decades, there have been many "roots" which have helped us to grow and fulfill our mission.
Our very founding was rooted in the conviction of the Daughters of Charity to care for orphans. Their conviction became a mission, and in 1860 three Daughters of Charity sisters founded our first care center in D.C. Three years later, this mission was confirmed and expanded when President Lincoln signed an Act of Congress incorporating us as St. Ann's Infant and Maternity Home, as we were then called.
The tradition of care that began during the Civil War served to define and re-define St. Ann's Center through the momentous historical events of the 20th Century, including two World Wars, the 1918 Flu Pandemic, and the Great Depression. As the D.C. region itself grew and expanded, our strong roots allowed us to also branch out and adapt, as St. Ann's Center shifted from primarily caring for children to supporting vulnerable young mothers and their children on their journey toward stability.

From our founding to the present day, our roots have also run deep amongst friends and benefactors. In times of challenge and in times of plenty, St. Ann's Center benefactors consistently support our work and keep alive the mission of our 19th-Century founders. You continue to sustain both our facilities and programs while also directly impacting the lives of our individual mothers and children who call St. Ann's Center home. In short, you help us continue to grow. Without you, our work is not possible. Thank you.