You are here
Bringing Compassion into the Classroom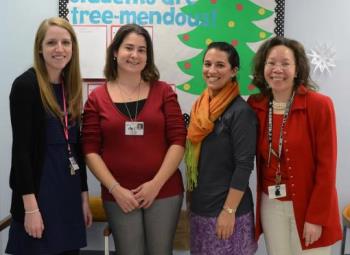 For Principal Valerie Swain, the key to fostering success in St. Ann's High School is to create an environment where students feel supported and understood.
"You can train teachers to create good lesson plans and be on time, but two things you can't teach are compassion and empathy," explains Ms. Swain.
St. Ann's young mothers carry a heavier load than the typical high school student. For many of our clients, their life experiences — including adolescent pregnancy and parenthood — has made it difficult for them to succeed in a typical school setting. St. Ann's teachers work with each student to help her overcome her unique challenges.
"We instruct our faculty to put crisis management and understanding ahead of the curriculum," explains Ms. Swain. "We want our teachers to feel comfortable sacrificing their lesson plan in order to address any challenges that might hold our students back from learning."
Tags