You are here
A Celebration of Hope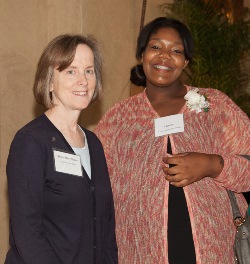 We would like to extend a warm thank you to all who joined us on May 6th in celebration of Hope Blossoms, St. Ann's annual fundraising and awards reception.
This evening would not have been such an enormous success without the dedication of our sponsors, donors, staff and partners. We are especially grateful to Jill and Paul McNamara, our honorary hosts for the evening for their leadership and guidance and to our Hope Blossoms committee for their tireless work throughout the many months of planning for this event.
Here are a few of our favorite images from Hope Blossoms 2015.
To view more, please visit ColellaPhoto.com.
---
The ballroom at Congressional Country Club was filled to the brim with both longtime friends and new ones.
Hope Blossoms guests look toward the stage as Steve Heidenberger (Member, St. Ann's Board of Directors) delivers remarks about the cost of care at St. Ann's.
Lynda Anderson (Member, St. Ann's Board of Directors) catches up with two Hope Blossom guests.
Friends of St. Ann's sponsors, Jane and Kevin Belford, pose during the Hope Blossom reception.
Our guests celebrated the invaluable work of our honorees.
Tonya Sharpe accepts the Outstanding Corporate Partner Award from Sister Mary Bader on behalf of Live Nation.
Our Hope Blossoms emcee, Kathleen Matthews, presents the Michele Heidenberger Volunteer Award to the Zinzi Family.
Mark Shriver (President, Save the Children Action Network) accepts the Mary McGrory Advocacy Award from Sister Mary Bader.
We witnessed the power of hope as a Teen Mother-Baby Program client, Vianelly, delivered powerful testimony about the path that led her to St. Ann's.
"My number one reason for gratitude is that my children and I have a place to call home." - Vianelly, mother of two and a St. Ann's resident
Guests applaud Vianelly after she delivered a powerful testimony.
Tags