You are here
Charde's Graduation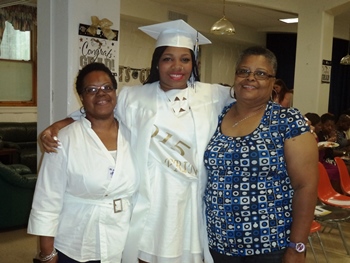 Charde arrived at St. Ann's three years ago, when she was just 16 years old, nine months pregnant, and homeless. As soon as she entered St. Ann's High School - just a few weeks after giving birth to her son – Principal Valerie Swain knew that her new student was special.
In fact, Charde's determination to succeed in school was apparent to all of her teachers as well as Ms. Swain from the very beginning. Mrs. Courtney Beckler, St. Ann's Mathematics and Technology teacher, recalls thinking that "the school could be collapsing around [Charde] and she would still be sitting at her desk, ready to start the next assignment."
Charde was also a standout to her classmates, who looked to her a as a role model. As young, single mothers themselves, they understood how difficult it is can be thrive in school and at work while also raising a child. Only 40 percent of young women who have a child before age 18 finish high school, and less than two percent of teen mothers finish college by age 30.[1] Charde blossomed in St. Ann's High School's small classes, where teachers and counselors worked closely with her to identify her academic and career goals and chart her path to success.
When Charde reached her Career Research and Development course - a junior year requirement for graduation - she chose to volunteer at Providence Hospital. Once again, Charde's supervisors and coworkers quickly recognized that this young woman had an unshakeable work ethic. Mrs. Roxanne Hurston, the Manager of Volunteer Services for Providence Hospital, cannot recall a day in over three years that Charde was ever late or absent, an extraordinary accomplishment for a young woman balancing work, school and parenthood. "When the clock hit 1pm, I always knew that Charde would be walking through that door."
Even after Charde finished the course requirements, she asked to continue volunteering at Providence, hoping to strengthen her resume so that she could find employment after graduation. At the end of the 2013-14 school year, Principal Swain announced that Charde had been accepted into a competitive work-study program, affording her the opportunity to attend school in the morning and work as a paid intern in the afternoons.
This past May 29th, just before Charde was to receive her high school diploma, her work-study supervisor walked to the podium. Like Charde's teachers and colleagues who spoke before him, Mr. Clyde Wright, Manager of Material Management at Providence Hospital, commended Charde on her work ethic, passion for the job, and reliability. At times admitted having to remind himself that Charde is just 18 years old, because her job knowledge exceeds many of his seasoned employees.
"Sometimes, things happen for a reason," Mr. Wright told the audience of Charde's family, friends, classmates and faculty, "And last week I found out that we are about to have a new opening in our department. Charde, I hope you will consider working for Providence Hospital, full-time."
Not many graduates can say that they were offered a full-time job during their high school commencement ceremony. But Charde is not your average graduate.
Learn more about St. Ann's High School and Teen Mother & Baby Program.
---
[1] Shuger, L. (2012). Teen Pregnancy and High School Dropout: What Communities are Doing to Address These Issues. Washington, DC: The National Campaign to Prevent Teen and Unplanned Pregnancy and America's Promise Alliance.
Tags