You are here
Q & A with Justin Cartagena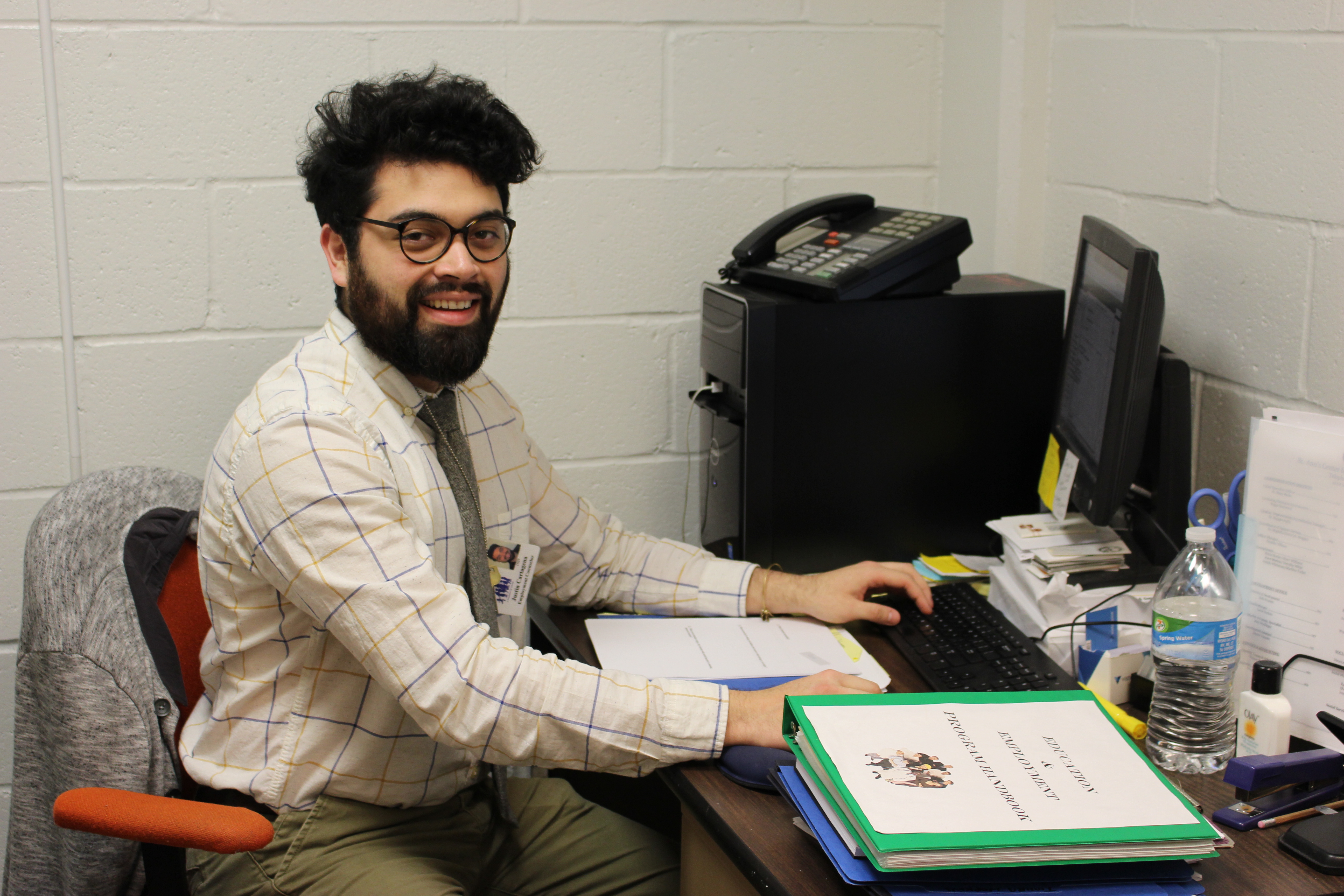 WHAT LED YOU TO WORK AT ST. ANN'S?
I started working in the workforce development field in D.C., with a company that was contracted by the Department of Human Services. Just about every day, I met with around 115 people and I realized that I couldn't possibly give the appropriate help that individuals needed to break the cycle of poverty.
When I heard about St. Ann's opening, I thought to myself: This is how I can effectively help families. Yes, I'll be working with fewer people, but I will be directly involved in these families' successes.
DESCRIBE A TYPICAL DAY.
My days vary, for sure. I essentially have an open door policy. If a mother calls and I have free time, I will schedule a meeting with her. Meetings can range from a quick check up to an hour-long discussion on professional development, post-secondary education, or budgeting.
When I am not working directly with families, I try to get out into the community or follow up with leads for job opportunities, training opportunities, or internship possibilities for my clients.
At my desk, I research and set up life skill sessions with the help of Ms. Swain (High School Principal and Education & Employment Program Director). I consider the needs of our mothers and research what individuals or organization can provide life skills sessions for our mothers.
Finally, I write and distribute a monthly Education and Employment Program Newsletter, containing job search tips, professional development tips, and upcoming free or low cost training sessions in D.C. and Maryland. All of this information is compiled and distributed to our residents.
WHAT CHALLENGES DO YOUNG MOTHERS FACE WHEN FINDING EMPLOYMENT?
By far, the toughest challenge young mothers face when finding employment is first finding child care. Every day it gets more and more challenging to apply for and receive a child care voucher; even harder still is finding child care support that fits the - often unconventional - hours some young mothers have to work.
People usually struggle with the old conundrum: a job requires experience but I can only get experience from the job. I agree that's tough; but, consider a young mother who has to surmount that "chicken or the egg" scenario on top of finding child care through a voucher system that doesn't consider you qualified to receive daycare unless you already have a job.
Our mothers need daycare to find a job, but can't receive child care unless they have a job. Success just isn't viable in that situation.
Just as challenging is the consideration of the mothers' psychological needs. When speaking with employers, I explain the trauma informed support that St. Ann's provides. Trauma is not always visible (though, of course, it can be). That is a perception I try to challenge when speaking with anyone about our program.
WHAT MAKES ST. ANN'S EDUCATION & EMPLOYMENT PROGRAM SUCCESSFUL?
St. Ann's is a great program where everything is on site. Being so available and near to our residents is essential. I have so much support from a great team and if I need information it isn't difficult to get. It streamlines how an employment counseling program works.
WHAT HAS BEEN YOUR FAVORITE MOMENT DURING YOUR TIME WORKING AT ST. ANN'S?
I received a call in December from a former resident who called to thank me and wish me a Merry Christmas! I don't ever do anything expecting recognition, but when someone calls to say, "You really helped me out and I just wanted to tell you that I am still appreciative and I am actually still at the job you found me!" it's really amazing; it was a great gift to receive.
Our Q & A with Justin Cartagena, Education & Employment Counselor, was originally featured in our FY2015 Annual Report. To read more, please click here.
Tags