You are here
Network, Network, Network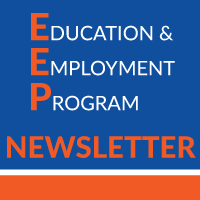 Every month St. Ann's Education and Employment Counselor, Justin Cartagena, writes and distributes an informative newsletter for his clients. It is always packed with useful employment tips, career advice and recommended reading.
Below is an excerpt from the July 2016 edition (Volume 2, Issue No. 7) of the Education and Employment Program (EEP) Newsletter. To read this edition in its entirety, click here.
---
Networking is by far your most valuable tool in the job search arena. The US Bureau of Labor Statistics and Yale University both say that a whopping 70% of all jobs are found through networking.
That is incredible: 70% of all jobs! That is more than half of all the jobs acquired. So, if networking is how we get employed, then why aren't we all doing it more frequently?
Well, for starters, as with most things employment search, there are effective and ineffective ways to network. Elizabeth Malatestinic is the senior lecturer in Human Resource Management at Indiana University's School of Business; she says that going to those massive networking events full of strangers so you can hand out business cards is not the way to go. Instead Malatestinic suggests joining clubs that coincide with your career interests. You can start with your alumni associations or organizations that interest you professionally.
There are many pieces of advice to remember when networking, but the most important is "building relationships". Relationships are give and take and aren't built out of convenience. Consider who you are networking with and whether you are constantly asking for things (like job openings) or building trust and showing you would be a good fit for a team through respectful interaction.
Networking is essential and I urge you to read Paige Harden's article at the Washington Post for information on how to become more effective doing it.
---
This was an excerpt from the July 2016 edition of the EEP Newsletter.
Click here to learn more about Justin Cartagena's work as St. Ann's Education and Employment Counselor.
Tags