You are here
Board Member Q&A: Tonya Sharpe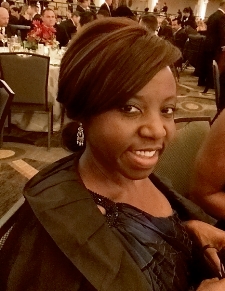 Tonya Sharpe, a member of St. Ann's Board of Directors, is originally from Rocky Mount, North Carolina. She started in the music industry in 1991 as the receptionist for Hardee's Walnut Creek Amphitheatre in Raleigh, North Carolina.
Tonya worked her way up the career ladder to her current position of Regional Vice President of Premium Seats Sales for the Southeast. As of August 2016, Tonya will celebrate 26 years in the music business working for Live Nation. She loves her job and her Live Nation family.
---
Tell us about how you were first introduced to the work of St. Ann's.
When I moved to Virginia I was looking for a place to partner with and raise money for people in need. Before I left North Carolina, I was working with the NC School of the Arts raising money for their scholarship program. Every artist that played at Walnut Creek was asked to sign an item for the auction. At the end of each year an auction was held and all proceeds were given to the school for scholarships.
It just so happens during a conversation with someone in our office one day I heard about St. Ann's and the incredible work they were doing at the time as an orphanage. There were a couple of people who worked at Cellar Door/Nissan Pavilion who were adopted from St. Ann's. I was very interested in learning more about St. Ann's and discussing my idea of the auction and donating the money to St. Ann's if their staff was open to working with a music venue.
The first auction was held at The Verizon Center and we raised $25k and we have continued to work together over 13 years.
What is most rewarding part about being a member of St. Ann's Board of Directors?
The most rewarding part about being a member of the St. Ann's Board is that I believe that I am helping to make a difference. It gives me the opportunity to educate people about St. Ann's and the tremendous work the staff does on a daily basis serving the community and helping mothers and children better their lives.
Being a member of the Board gives me a stronger connection to St. Ann's. I have a special place in my heart for the residents at St. Ann's and the dedicated staff. There is a quote that hangs in my home that says "Service is the Rent You Pay for Living." I do believe in using my life to serve others in need.
What was the best advice you have ever received?
Where do I begin with the best advice I have ever received? Here are a few words of wisdom that I incorporate into my life:
If I wake up every day excited to go to work then I know it is exactly what I am supposed to be doing. I really do love my job, and I am fortunate to have been with the same company over two decades. After all of these years I still enjoy the work that I am blessed to do each day.
Always be kind to people because they might forget what you say or what you did but they will never forget how you made them feel. I really try to make everyone feel good and find the positive in every situation.
I can accomplish anything that I set my mind to do. It might not happen right away but I remember hearing one time that dreams do not have deadlines and that is very true.
What is your favorite place to visit in Washington, D.C.?
My favorite place to visit in Washington, D.C. is The White House. I have been blessed to visit many times and each time I enter the doors my heart beats a little quicker.
I remember as a child growing up in North Carolina writing letters to each of the First Families and asking for photos of them at The White House. Every time I received a letter back I would be so excited and I have kept each of them all of these years later.
Now I have my own photos inside The White House and I am reminded that God dreams a bigger dream for us than we can ever dream for ourselves.
Tags