You are here
Creativity to Infinity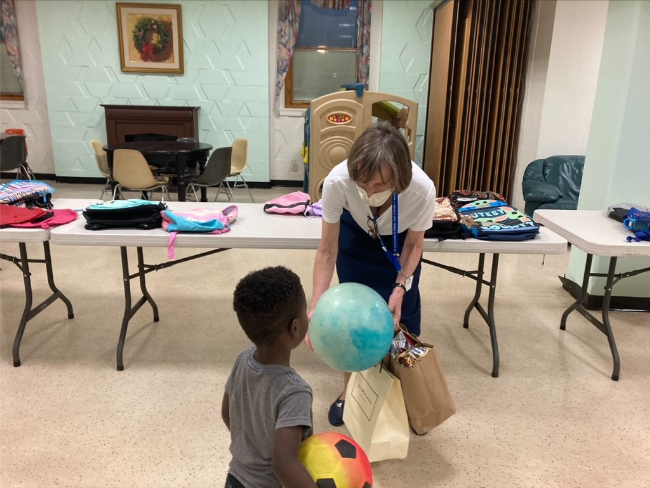 This article originally was originally published on Sept. 6, 2022 as a guest blog post for the Catalogue for Philanthropy Blog. The original article can be found in its entirety here: https://www.cfp-dc.org/blog/2022/09/06/st-anns-center-creativity-to-infinity/
---
Creative to Infinity
By Sister Mary Bader, CEO of St. Ann's Center for Children, Youth and Families
Earlier this week, I was near our entranceway at St. Ann's Center for Children, Youth and Families when I noticed three of the young mothers in our transitional housing programs returning after an evening stroll around our Hyattsville, MD, neighborhood. The women were laughing with each other as they walked in the balmy weather, their little ones safely tucked into their strollers. As so often happens at St. Ann's Center, it seemed these young mothers were truly enjoying each other's company. Witnessing this happy scene lifted my heart and filled me with gratitude.
These sorts of moments have happened often lately; seemingly minor gestures, glances, or smiles can generate surprisingly big emotions within me. Given all that we have lived through since 2020, I am sure that I am not alone in this experience. We all know that small acts of kindness and love have always mattered — they just seem to matter even more now.
In August, the Catalogue for Philanthropy reported on their membership survey assessing the pandemic's impact on nonprofits (and their staff) in the Greater Washington region. This article reminded me once again of the numerous recent challenges faced by nonprofit and social service agencies — challenges which have had historic impact on St. Ann's Center and the clients we serve.
We were founded in 1860, when three Daughters of Charity opened St. Ann's Infant and Maternity Home (as we were then called) to assist single and widowed mothers in Washington, DC, affected by the outbreak of the Civil War. Just three years later in 1863, President Lincoln signed a charter incorporating and expanding our mission of caring for the region's most vulnerable citizens.
St. Ann's Center and the Daughters of Charity have never wavered from President Lincoln's charge, even through many subsequent wars, economic crises, and yes, even a previous pandemic in 1918. That being said, our community has rarely faced a challenge like COVID-19, which continues to impact our world.
We know there is much healing work to be done. Still, we can now see sunlight breaking through the clouds of uncertainty, illuminating the many blessings we have experienced during this unusual time. It would require an entirely separate blog post to adequately name the practical, financial, and emotional supports we have received from our generous staff, board, and supporters.
Suffice to say — because of our caring community, St. Ann's is still here and still able to fulfill our mission of supporting pregnant and parenting mothers and their children who are facing housing insecurity. Throughout the pandemic, we have never had to turn away a family in need.
A quote we cherish at St. Ann's is "Love is inventive unto infinity," by St. Vincent de Paul.
When I examine the recent course of events at St. Ann's Center — and indeed, when I meditate upon St. Ann's Center's 162 years of mission-based service — this is the story I see: loving people of ordinary means exacting extraordinary and meaningful change in the lives of others.
Material and financial support sustains the mission; this is as true in 2022 as it was in 1860, when our founders had to begin their work in a cramped space adjacent to a downtown Washington, DC parish building. However, I believe St. Ann's mission continues today primarily because of the loving relationships that others have gifted us along our journey, rather than materials supplied.
Through these loving and creative relationships, St. Ann's Center has been able to build a nurturing and holistic environment in which mothers and their children can heal from the past, make plans for the present, and achieve their future goals of independence and stability.
Our mission has never been about "what St. Ann's does" but rather "what families can do" in a setting where they know they are cared for and supported. Part of this work has always been the shared goal that families who stay with us will one day spread their wings and soar into a future of their own creation. I think this metaphor is a fitting illustration for how I hope we will all transition into a future beyond the momentary challenges we face today.
- Sister Mary Bader
---
About St. Ann's Center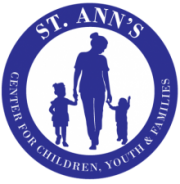 Mission Statement: St. Ann's Center for Children, Youth and Families strengthens and supports families on their journey toward stability. Inspired by Catholic social teaching and Gospel values, St. Ann's Center provides a nurturing community where families heal from the past, overcome barriers, and take hold of their future.
St. Ann's Center is a registered 501(c)3 nonprofit committed to lifting vulnerable children, mothers and families out of poverty and homelessness. Our innovative housing and support programs build upon a family's inherent strengths by providing the tools for life-long independence and self-sufficiency. St. Ann's serves families of all backgrounds and faith identities.
---
Thank you for considering a gift to support the several families who have arrived at St. Ann's Center in recent weeks. Your gift will help provide for these families' immediate needs and help them grow comfortable as they begin our trauma-informed, strengths-based, and supportive transitional housing programs.
Donate here: https://donatenow.networkforgood.org/stannscenter
Tags