You are here
Advocates Receive Archdiocese's 75th Anniversary Medal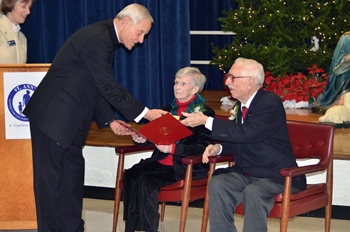 On December 6th, 2014, the Archbishop of Washington, Cardinal Wuerl, presented the Archdiocese of Washington's 75th Anniversary Medal to Wilfred and Maureen Billerbeck for their extraordinary service to, and advocacy on behalf of, the women and children receiving care from St. Ann's.
When newlyweds Maureen and Bill decided to start a family in 1955, they immediately reached out to an organization that had been close to Maureen's heart since volunteering with as a teenager, St. Ann's Infant and Maternity Home. By 1960, the couple adopted the first three of their nine children from St. Ann's.
In the decades following their adoptions, Bill and Maureen remained connected to St. Ann's mission by donating gifts every Christmas, attending special events, and volunteering their time with the young women and children.
In 2010, Bill and Maureen established the Billerbeck Family Endowment Fund, with the mission to promote St. Ann's work to educate, strengthen and care for vulnerable children and young mothers. To learn more about the Billerbeck family, please visit their donor profile.
To view more images captured during St. Ann's Christmas Open House, click here.