You are here
From the EEP Newsletter: Interview Follow-Up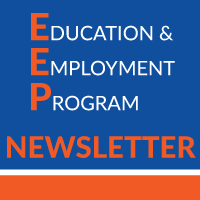 At the beginning of every month, St. Ann's Education and Employment Counselor, Justin Cartagena, writes and distributes an informative newsletter for his clients, packed with employment tips, career advice and recommended reading.
Below is an excerpt from the April 2016 edition (Volume 2, Issue No. 4) of the Education and Employment Program (EEP) Newsletter. To read this edition in its entirety, click here.
---
Following up with an interviewer is very important, but just like with any aspect of the job search, how you do it reflects the kind of employee you will be.
Two careful considerations about following up with interviews are taste and professionalism. Lisa Vaas, contributor of TheLadders.com, found that a simple, well-worded, and short thank-you note is still one of the best ways to follow up to an important interview.
After interviewing various professionals at different levels of the hiring process, Vaas found that there are 6 types of negative "follow uppers". Two I especially took note of are "The Aggressive Ones" and "The Unprofessional Emailer."
Aggressive follow ups are exactly what they sound like. Make sure you continue being pleasant even if things don't go your way; you don't want to burn any bridges in the job search process.
Unprofessional e-mails are a sure sign of lack of care. If you don't proofread a follow-up email and take care in your day to day work, what makes an employer want to trust you with their work?
Make sure to check out the full article if you find yourself not getting the positive response you desired from your follow up actions; maybe you're sabotaging your chances of getting hired without even realizing it.
---
This was an excerpt from the April 2016 edition of the EEP Newsletter.
Click here to learn more about Justin Cartagena's work as St. Ann's Education and Employment Counselor.
Tags