You are here
Our Families' Journeys to Stability & Independence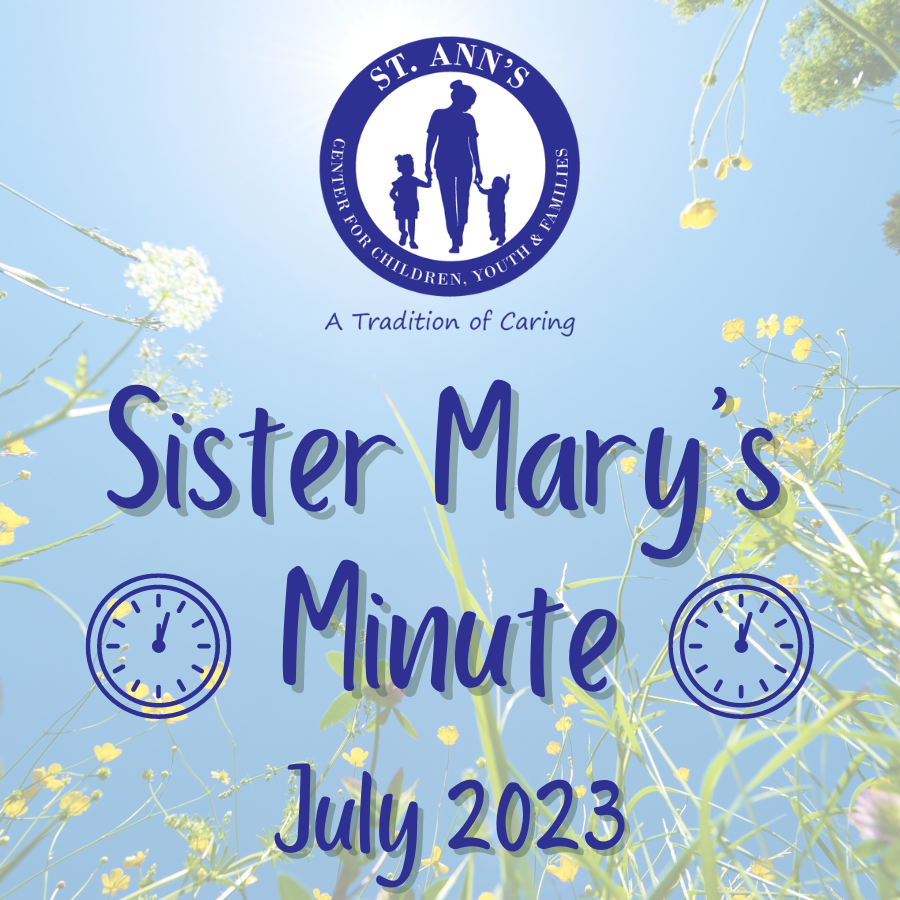 This blog is part of a monthly reflection series from St. Ann's Center CEO, Sister Mary Bader.
Find more of these reflections by visiting the archive: Sister Mary's Minute.
---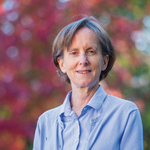 Hello from St. Ann's Center – and thank you for your continued support of the mothers and their children who are residing with us this summer.
This past week has been especially fun as our community celebrated Independence Day – complete with a (mini) Fourth of July Parade and Ice Cream Party attended by our resident families as well as the families in the local community enrolled in St. Ann's Child Care Center.

There were no fireworks, of course (for safety reasons). But there were plentiful bursts of smiles and laughter all through the afternoon. Thank you so much for your support, which provides St. Ann's families with holidays like this one – where mothers can bond and have fun with their children in a caring, nurturing environment as they advance towards their goals.

Of all the special occasions we celebrate at St. Ann's Center, Independence Day might best symbolize our long-term hopes for our clients. Faced with imposing obstacles (including past hurts and traumas), the women who participate in our programs nevertheless embark on the brave work of writing new futures for their families. The goal – which we have seen accomplished five times this past year – is each family's successful transition from crisis to stability and independent living of their own.

To me, these hopeful journeys (and journeys-in-progress) are as "WOW!"-inspiring as any fireworks show Macy's can put on!

Thank you for your role in helping our families to heal, to grow, and to go forth into the world.

Gratefully Yours,
Sister Mary Bader, CEO
P.S. Now through Aug. 30, the Raskob Foundation for Catholic Activities is generously matching gifts to St. Ann's Center, up to $20,000. To learn more about this St. Ann's Day campaign - and how you can honor the special women in your life with a gift - please read below!
---
St. Ann's Day | 1-for-1 Matching Gift Opportunity
Help Us Open Doors of Hope & Welcome!
This month we celebrate our namesake, St. Ann – the Mother of Mary, and the patron of mothers and grandmothers! As July 26 approaches – St. Ann's traditional feast day – we invite you to join us in celebrating the special women in your life by making a gift to support the women and their children who turn to St. Ann's Center for help.

And through August 30, thanks to the generous support of the Raskob Foundation for Catholic Activities, your gift will be matched dollar for dollar, up to a total of $20,000!

You have the option to make your gift in tribute or memorial to a special woman, mother, or mother figure in your life. Tributes will be posted to a special page on St. Ann's website!

You can conveniently make your gift online at http://bit.ly/StAnnFeastDay. For details on making a gift by check, please contact Ellen Toups, Manager, Annual Giving & Corporate Relations at [email protected].
---
Support St. Ann's Center this Summer in Navy Yard

Support St. Ann's Center this Summer in Navy Yard!
Summer Happy Hour Fundraiser Benefiting St. Ann's Center Families
Date: Tuesday, August 22
Time: 5 PM - 9 PM
Place: Dacha Beer Garden, Navy Yard
79 Potomac Ave SE, Washington, DC 20003
All are welcome! St. Ann's will be selling $20 wristbands which get you extended Happy Hour deals and 1 ticket entry into our raffle! Proceeds directly support St. Ann's transitional and supportive housing programs for mothers and their children.
Hosted by St. Ann's Young Professionals Network. Interested in joining our group and growing your professional network while helping St. Ann's families? Contact us HERE.
---
About St. Ann's Center
St. Ann's Center helps mothers and children overcome crisis and achieve lasting independence and stability by providing a safe and supportive home, child care, education and employment assistance, and clinical social work services within a Catholic community that welcomes all.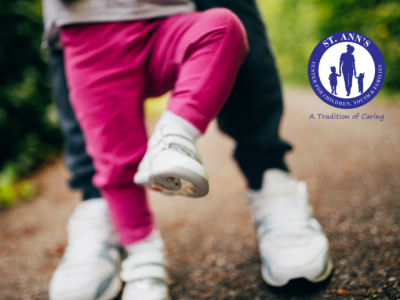 Image: Mother and daughter walking on a path together.